Charity Bounce
7 January 1972
Charity Bounce is one of those Goodies episodes that has something to say but does so without sacrificing any of its humorous intent. The episode is fast, funny and full of comedic flourishes. Under cover of laughter, it takes unscrupulous corporate fundraising to task and sneaks in some well-aimed digs at racism… Or does it?
More on this thorny issue later.
The crux of the story is a running (nay, bouncing) clash between our heroes, collecting money for charity, and cold-hearted, penny-pinching Mr Sparklipegs who wants to exploit the lads for free publicity. Guest star Freddie Jones puts in a bravura performance—one of the finest in Goodies history—and there's a wonderful contrast between Mr Sparklipegs' underlying greed and the false cheer evident in his public persona and in every working aspect of the House of Sparklipegs. The voluble Minion (Jonathan Cecil) and smilingly mute Miss Simpkin (Gilly McIver) further this impression of a Jekyll & Hyde corporation, and of course there are such usual Goodies absurdities as giant teeth to be brushed and security dentures guarding the petty cash.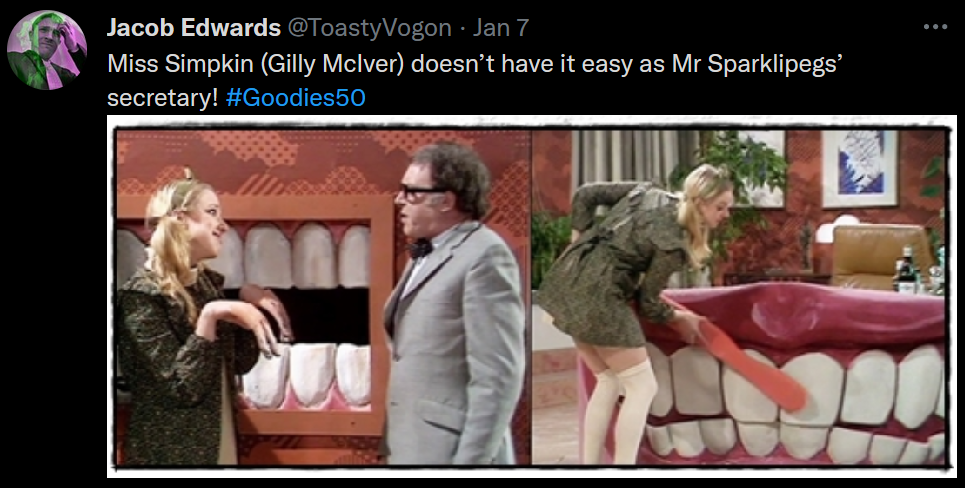 The Goodies for their part have reverted to their original brief of 'doing good to people'. They are fresh-faced, innocent and optimistic in their charitable pursuits, and this good-heartedness is reflected in the music: first 'Needed', then a rare reprise of the opening theme, and finally the ridiculously jaunty and toe-tapping 'Spacehopper', which adds a mad peripatetic glee to the lads' round-the-world venture.
One notable sequence in this travelogue is the Goodies' searingly irreverent passage through South Africa. This lasts for 42 seconds and in essence appears a proof of concept for Series 5's whole-episode condemnation of apartheid. Of all the countries traversed, South Africa garners the biggest laughs. We're given a white-on-white 'Welcome to South Africa' sign, segregated piano keys, mandated police brutality, and a zebra crossing where pedestrians hop from white to white or from black to black strips as per their own colouring. Albeit fleetingly, the lads appear very much of a mind to throw stones!
And yet…
More than three years went by before the Goodies made 'South Africa', and much though this would prove satire of the highest order, we should be wary of retro-attributing its socio-political commentary to 'Charity Bounce'. Indeed, there's plenty of evidence to suggest that the earlier episode was rather less high-minded.
Firstly, the 42-second South Africa segment itself buys wholeheartedly into racial caricature. There is little sense of two inherently equal groups of people being arbitrarily divided, and rather more of one 'civilised' and one 'primitive' race living in mutual disregard. Granted, there's an argument to be made for parody-fuelled satire, yet the propensity for stereotyping is in no way limited to this one instance.
Racial or nationalistic profiling is, in fact, dished out wherever the Goodies hop: France (cod accents, striped shirts and garlic), Germany (shorts, long socks and beer drinking), Italy (moustaches, fedora hats, grape stomping), India (snake charming, turbans, beds of nails), Australia (safari suits, Rolf Harris), and America (rampant gun culture and natives with bows and arrows). Charitably speaking this is all just good, silly fun, but there's also something a bit off about it, at least to modern eyes: at best, the dismissive reduction of other cultures speaks to a presumption of British superiority; at worst, we're looking at colonial degradation and bigotry in its most casually insidious form.
And what of the second mock commercial? "If you need Mr Wong the plumber, or Mr Quang Châu the butcher, or Mr Lê Phong the dentist, or Mr Chin the insurance salesman, then you can find them all in… the Yellow Pages." [Uproarious laughter.]
This isn't subversive in any way. Rather, it shows the Goodies as the product of a culture steeped in everyday racism. Yes, they played to their audience. Yes, they would do better in future. But that doesn't make it any less of a low point.[1]
For all the Super Chaps' brilliance—for all their wit and impudence, the inventive self-mockery, their loveable roguishness and that seemingly infinite capacity for making people laugh—it would be interesting to crunch some demographics on Goodies fandom.
Jacob Edwards, 7 January 2022
Tweets: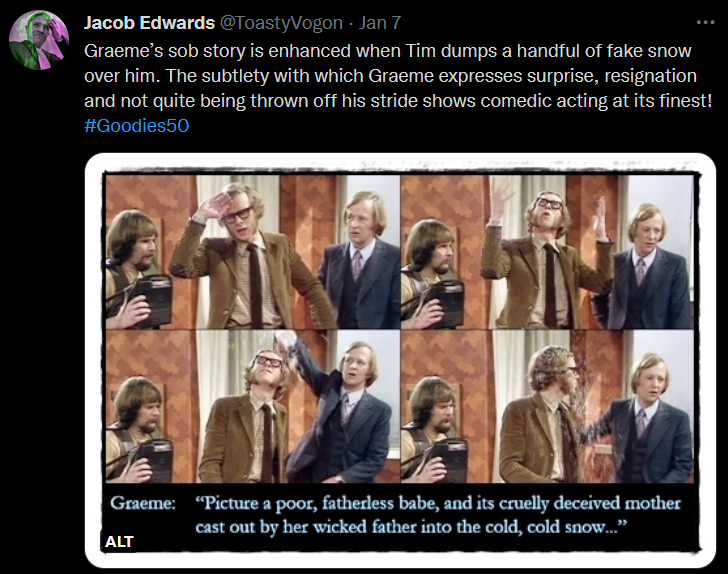 ---
[1] Can we then construe an element of guilty conscience to the lads' styling themselves as 'Baddies' the following week—mindless automatons cycling around and carrying out stereotypically bad acts…?
Previous: Gender Education
Next: The Baddies