Andromeda Spaceways Inflight Magazine #45
Published May 2010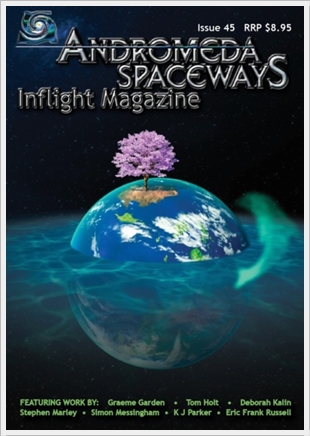 Cover Art:
Novelettes:
Count (Baron) Dracula & Baron (Count) Frankenstein by Stephen Marley
Dead of the Day by Simon Messingham
Amor Vincit Omnia by K J Parker
Short stories:
They'd Like to Come and Meet Us, But They're Only CGI by Tom Holt
Shaping Lily by Deborah Kalin
Poetry:
The Man Who Invented Time Travel by Graeme Garden
Non-Fiction:
Overlooked: The Non-Fiction of Eric Frank Russell by Jacob Edwards
Who's that Knocking? by Eric Frank Russell
Story Awards:
Dead of the Day, by Simon Messingham, honourable mention, Ellen Datlow's Best Horror of the Year, Volume 3 (2010); nominated, Bram Stoker Award, 2010
Reviews:
Andromeda Spaceways' latest issue celebrates the golden age of genre fiction in a themed issue of stories from seven genre stalwarts and newcomers including an exclusive non-fiction article from the late Eric Frank Russell. The decision to pay homage to the expanding bounds of science fiction in such a way with mostly new stories and two nonfiction articles is an interesting one, but one that pays handsomely for editor Jacob Edwards.
—Mark Smith-Briggs, HorrorScope (13 August, 2010)