Titles:

30,000 Per Day, Windmills 12 ('Fairy Tales') (October 2013). In which a duck and an anteater continue their tale into the happily ever after.

@dolf, The Sand Canyon Review (2016). Imagine Hitler on Twitter…
Autumn Afternoons, Perceptions (2016). In which the poet drives past an old man and his dog.

Basking, Provoke Journal (posted 21 January 2017). Sitting in the sun, the poet is overcome by nostalgia for the Famous Five.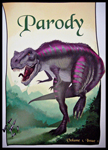 Beetnick, Parody 1.1 (April 2012). Part (the fabulous) Four of Proof that Pandas like Bumbershoots.

By Light of Elevenses, Ideas Start to Sprout, A Narrow Fellow 2.2 (Fall 2014). Regarding the possible consequences of swallowing mandarine seeds.
Internal Illustration: "From Seeds" by N D Hazlett

Colosseums of the Future, Cordite Poetry Review 48.0 (Constraint, 2014). In which civilisation rises and falls while the river flows on.

Dementor's Dirge, Tales of the Unanticipated 32 (2018). In which Hogwarts falls under a bizarrely sexual attack.